Grocery
Shohoz Grocery: Bringing Convenience at Your Doorstep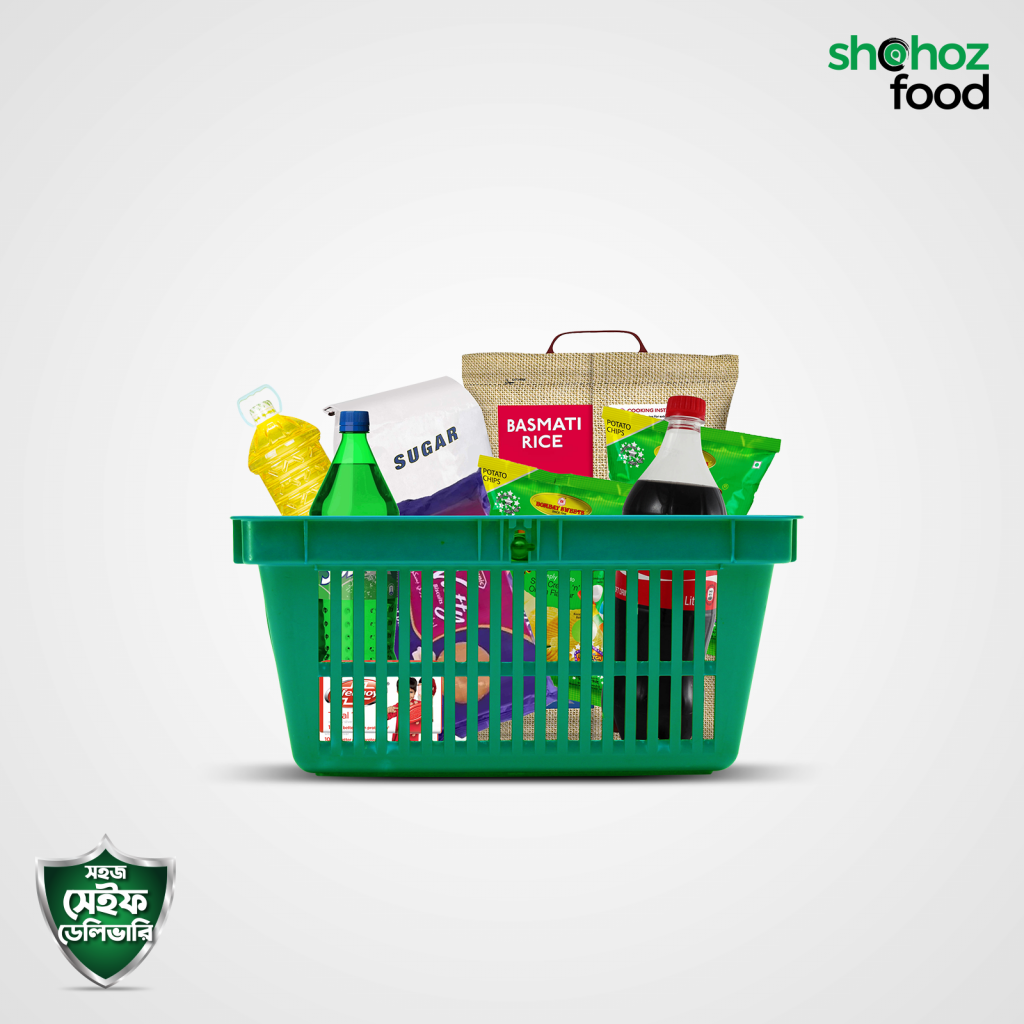 In collaboration with hundreds of grocery stores throughout the cities of Dhaka and Chattogram, Shohoz has recently launched its on-demand 'Grocery' section within Shohoz Food. Shohoz has partnered up with Swapno, Unimart, Meena Click, Agora, and many other renowned Bangladeshi superstores to bring grocery items in the app. At the same time, Shohoz is also working closely with GSK, Marico, Bengal Meat and other top consumer goods conglomerates to ensure safe delivery of needs straight to your house, by only using your smartphone.
Cooking items, beverages, bakery items, frozen food, spices, health drinks, hygiene products, snacks, meat, fish, sanitary napkins and many other daily necessities can be purchased through the Shohoz super app. To get all your necessary commodities at your home under an hour, just open your Shohoz app, and click the Grocery tab from Shohoz Food. In the grocery section, you will find all your favorite grocery stores enlisted there. To order now, please click: https://k3uc7.app.goo.gl/Shohoz
Now you can stay home and relax, while we deliver the products you love, safely. To avoid handling cash and to ensure a completely contactless delivery, you can also complete the payment online.
How to order?
Go to your Shohoz Super App
Click Shohoz Food
Click the Grocery tab on top
Chooses from the grocery stores near you
Add necessary items to your cart and check out
Make the payment through bKash, debit/credit card or cash on delivery
To order now, click this link https://k3uc7.app.goo.gl/Shohoz
Why should you order online?
Today's world is moving fast, and so are our lives. One of the many blessings of this advancement is on-demand online shopping. Because of the unlimited advantages of online shopping, more people are inclined towards online buying rather than purchasing conventionally. Be it groceries, bus tickets or food, we can buy anything and everything online nowadays. There is a scope for extensive research for us to choose from where we want to buy as there are multiple options available. We are accepting online shopping more as it has minimized our hassle of going to the shops – it is saving our time and reducing the overall stress. To bring this service at the doorsteps of the consumers, Shohoz Super App has recently introduced grocery shopping. Now anyone can find their favorite grocery items in the app and order online.
Convenience: Comfort is the biggest reason to get groceries online. You can stay in your home or office and order from your phone through Shohoz Food's Grocery section. You don't have to worry about long queues and don't have to face the hustle and bustle of Dhaka city. You can compare the price between superstores and find the perfect product for you.
Save time: Why spend time behind grocery shopping when you can spend that time wrapping up more important works or watch a movie or finish a book that has been long pending? Online shopping saves time and helps you relax even more. Best part: Shohoz On-Demand Grocery delivery is instant, so you will get your desired grocery items within an hour.
Safety: Shohoz is accountable for every delivery you order. Every order is tracked and all our delivery agents are under our guidance. At the same time, we strictly maintain Shohoz Safe Delivery guidelines: in case of pandemics like the coronavirus, they are instructed to use masks during movement, and wash hands at regular intervals. They are also trained for completely contactless deliveries from over 6 feet distance.
Oops! It looks like nothing was found for this query