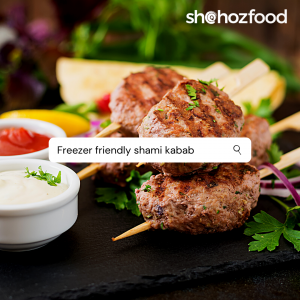 Step 1: Grind the whole spices (Ginger, garlic, turmeric, red chili powder, whole red chilies, garam masala, cinnamon stick, jeera, green cardamoms, salt) to make a Shami kabab masala.
Step 2: Add the beef, lentils, onion, and spices to the Instant Pot or stovetop along with water. Cook. Sauté out extra moisture.
Step 3: Pulse to chop up an onion, a green chili pepper, and herbs in a food processor. Remove those and add the beef and lentil mixture. Process until smooth.
Step 4: Crack in an egg, mix everything, and form into patties. Pan-fry.
Don't have the ingredients? Order grocery on Shohoz Food just by clicking the below link.